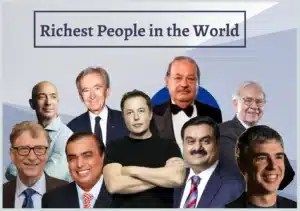 Top 10 Richest People in the World
The glamour and magnificence of the world's wealthiest, most powerful, and most influential people from the business world never fail to fascinate the common man, and every entrepreneur and business person strives to be like them someday! Every year has its own list of the world's richest people that is based on their financial performance and net worth. Here is the latest list of the 10 richest billionaires in the world and all those things about their lifestyle that comprise their opulence.
1.Elon Musk
CEO, Tesla
One of the most influential names in the business sector is Elon Musk who has co-founded six companies including electric car maker Tesla, tunneling startup Boring Company, and rocket producer SpaceX. Musk became a major funder of Tesla Motors in 2004 (now Tesla), enabling him to become the CEO of the electric vehicle company. Apart from its line of electric automobiles, Tesla produces automobile accessories, and energy storage devices, and, through its accession of SolarCity in 2016, it also owns solar power systems.
2.Bernard Arnault & Family
Chairman and CEO, LVMH Moët Hennessy Louis Vuitton
Luxury brings many names to our minds, but the one who rules with his extravagance is Bernard Arnault. One of the most powerful and richest people, Bernard Arnault with an eye for refinement and art is the chair and CEO of LVMH, the world's largest luxury goods company. LVMH brands include Louis Vuitton, Hennessey, Marc Jacobs, and Sephora.
3. Gautam Adani
One of the biggest elite families in India is doubtlessly the Adani's. Gautam Adani is chairman of the $21 billion (revenue) Adani Group which has gained significance in power generation, transmission, ports, airports, cement and real estate, green energy, and edible oils, among others. Adani controls India's largest port, the Mundra Port, in Gujarat which is his home state.
4. Jeff Bezos
Chairman and Founder, Amazon
A Man of wealth, Jeff Bezos founded the e-commerce giant Amazon out of his garage in Seattle. In July 2021, he stepped down as CEO to become the executive chairman. Currently, he owns a bit less than 10% of the company.
5. Warren Buffett
CEO, Berkshire Hathaway
This billionaire is referred to as the "Oracle of Omaha". Yes, Warren Buffett is one of the most successful investors of all time. He runs Berkshire Hathaway, which owns several companies, including insurer Geico, battery maker Duracell and restaurant chain Dairy Queen.
6.Bill Gates
Cochair, Bill & Melinda Gates Foundation
An inseparable name in the richest people ranking, Bill Gates prospered from his software firm Microsoft into other wide-ranging holdings including investments in zero-carbon energy. In May 2021, Bill and Melinda Gates both put forward their announcement about ending their marriage after 27 years. However, they still co-chair the charitable Gates Foundation.
7.Larry Ellison
CTO and Founder, Oracle
A name synonymous with wealth and prosperity, Larry Ellison is the chief technology officer, chairman, and co-founder of software giant Oracle, of which he owns about 35%.
8. Mukesh Amban
Founder and Chairman, Reliance Industries
Mukesh Ambani, the doyen of Business in India, chairs and runs $104 billion (revenue) Reliance Industries which has interests in gas, telecom, petrochemicals, oil, and retail. Dhirubhai Ambani, a yarn trader, founded Reliance. In 2002, after their father's death, Ambani and his younger sibling Anil divided up the family dominion. In 2016, Reliance set in motion a telecom price war with the launch of the 4G phone and broadband service Jio.
9.Carlos Slim Helu & Family
Honorary Chairman, América Móvil
Mexico's richest man, Carlos Slim Helu and his family manage América Móvil, Latin America's biggest mobile telecom firm. Alongside his foreign telecom partners, Slim bought a stake in Telmex, the only phone company in Mexico in 1990. Interestingly, he owns stakes 17% of The New York Times.
10.Larry Page
Cofounder and Board Member, Google
This triumphant aristocrat, Larry Page resigned as CEO of Alphabet, the parent of Google in December 2019 but remains a board member and a controlling shareholder. In 1998, he co-founded Google with fellow Stanford Ph.D. student Sergey Brin. Page invented Google's PageRank algorithm which powers the search engine with Brin.
Truly, the one thing all these 'richest people alive' have in common is the uncommon ability to seize opportunities that come their way and never give up on their dream. With their talent and passion, they took over their respective industries and ruled with their eccentric business tactics.